It's just 5 weeks to go until Christmas. That's right… not long until we can see the back of 2020 and we've all got our fingers, legs and toes crossed that we'll be able to bring a bit of 'normality' back this Christmas.
With Christmas crafting top of the list for our early years & primary schools, we have done our research to bring you the best craft ideas for Christmas 2020. Share this with your staff, parents, friends and family and let's bring on some festive joy to our classrooms and homes.
1. DIY Christmas Tree Cones
If you've been scouring Pinterest for some craft ideas for your children, I'm sure you've come across these beauties before. . What we love about this craft idea is grown-ups and children can give this one a go and it can make a welcome addition over your fireplace this Christmas.
Simply make a cone base… this can be made from card, felt or another material then decorate with whatever you fancy (we recommend lots of glitter) then top with a festive star. Perfect!
Alternatively you can use a handy template, like the one downloadable from Twinkl.
2. Paper Plate Wreaths
Who knew you could get so much fun out of plain old paper plates. Take a standard white paper plate, cut out a hole in the centre…. Now you have your base. Add your favourite decorations… perhaps some red pom-poms for berries, green paper for the holly leaves – get creative!
Blog Crafty Morning has some great fest paper plate ideas for kids.
3. Homemade Christmas Cards
This is an oldie but a goodie. Nothing is more special than a handmade Christmas card made lovingly by a child in the spirit of Christmas.
Cards can be decorated in a number of ways… whip out the glitter, coloured paper, felt and glue sticks. It's time to put on the Christmas tunes and let the children become artists.
Check out this awesome 3D card tutorial from Tips 4 Teachers:
4. A South Pole Display
How about a craft that all the kids can contribute to? Displays are a fantastic way to get all the children involved, working as a team to create one holiday scene. This year, we're promoting the South Pole display. A great opportunity to learn about geography and animals too.
5. Paper Chains & Paper Snowflakes
Well… we cheated a bit here. Technically these are two crafts in their own right, however we couldn't talk about paper chains without mentioning the other awesome craft you can do with paper. By far one of the most budget friendly crafts for your classroom… all you need to do is stock up on paper!
Twinkle provide some fantastic downloadable templates for teachers.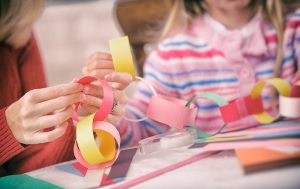 Paper Plus is able to supply your school with consumables including arts & crafts materials at competitive prices. Check out our range here.